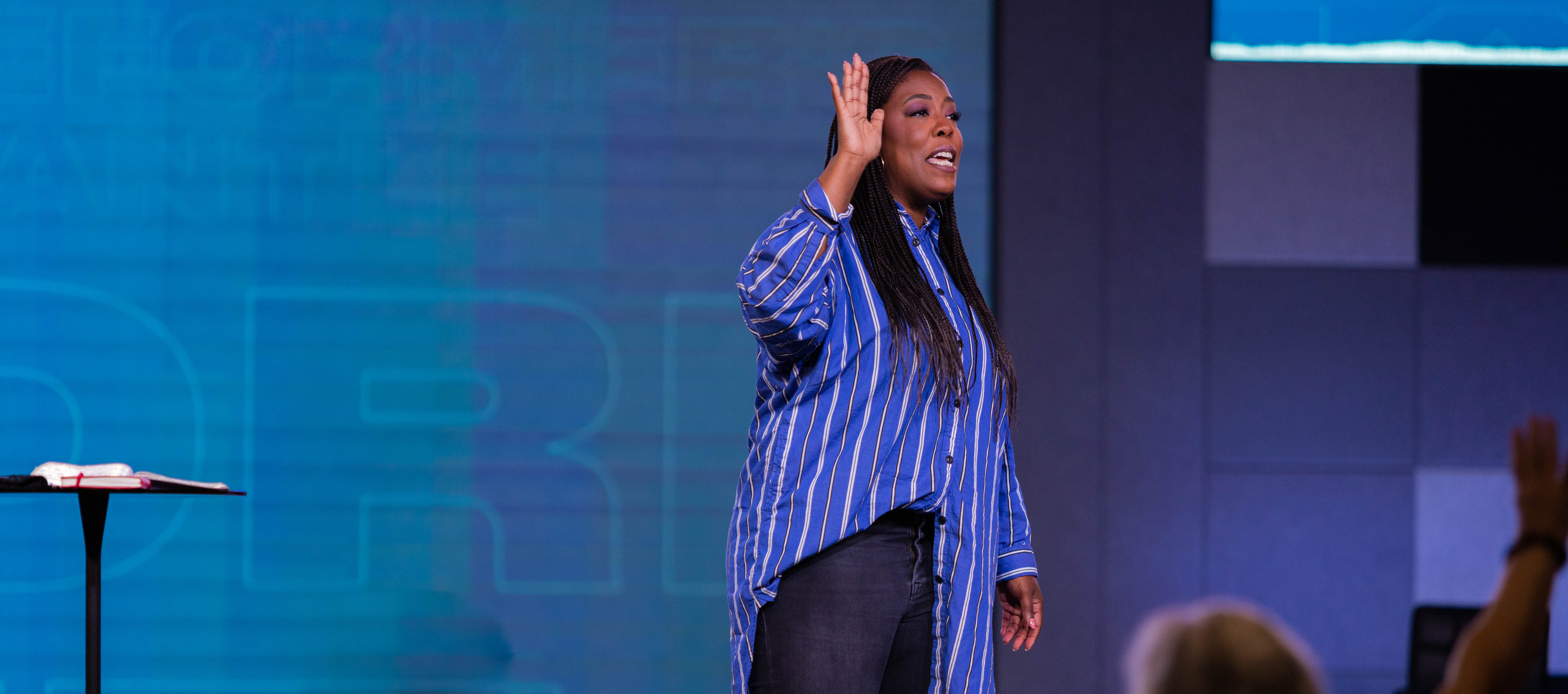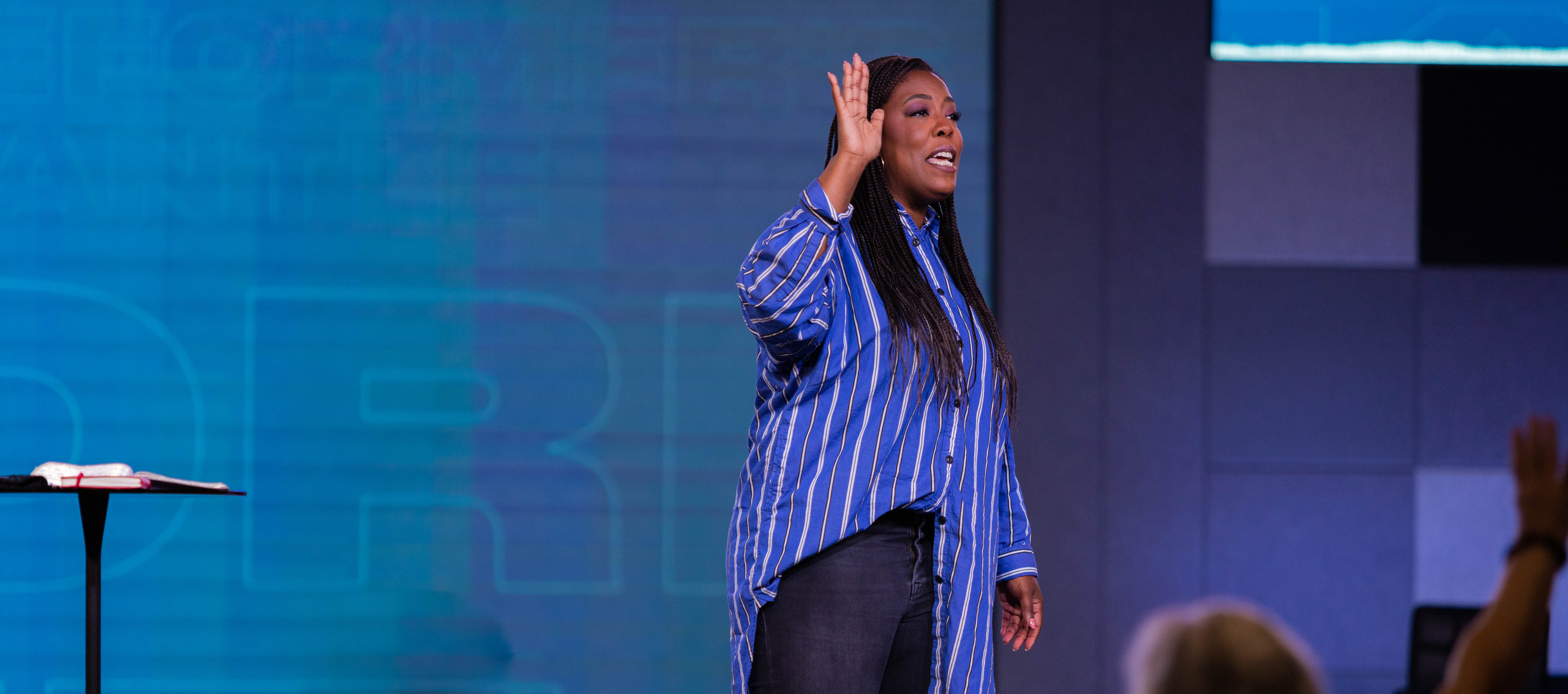 The Mantles of Bishop Harry Jackson and Dr. Vivian M. Jackson have been passed. Their legacy lives on through their daughter, Pastor Michele Jackson, Lead Pastor of Hope Christian Church.
Affectionally known as Apostle Michele, Joni Michele Jackson, was ordained as Pastor at Hope Christian Church in January of 2019; following pastoral training for the purpose of succeeding Bishop Jackson in the local church. Following the passing of her father, Bishop Harry Jackson, Pastor Jackson was confirmed by the Board of Trustees as Senior Pastor of Hope Christian Church on November 11, 2020. Pastor Michele is a worshipper, a prayer warrior and a student of the Scripture. Her passion is to see people become whole, free and equipped to fulfill their destiny in God. Following the period of mourning and celebration set by Pastor Michele and the Board of Trustees, Pastor Michele was officially installed as Senior Pastor of Hope Christian Church and comissioned as Apostle on Sunday April 11, 2021 by Bishop Bill Hamon. Hope Christian Church remains under the covering of Bishop Bill Hamon, Christian International.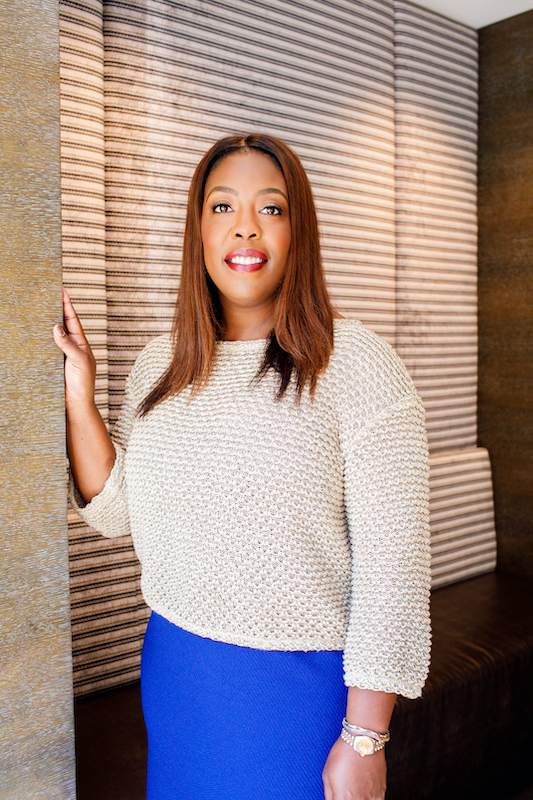 Hope Christian Church has remained steadfast to it's calling since 1979.
The Founding Vision
Hope Christian Church, formerly, Christian Hope Center, began as the vision of Jean Hawkins in 1953 when God spoke to her about a time yet to come. God told her to seek to meet the practical needs of the people, to share the gospel with them and give them the message of hope. Jean married David Longobardo in 1970 where they served God on the west coast. In 1971, they moved to Ft. Meade, Md and they served on the staff at Evangel Temple from 1974-1979.
Built to be a catalyst for transforming lives in the community, Pastor David and Jean established their church at Eastern Junior High School on University Boulevard in Silver Spring, Maryland in April 1979 and devoted themselves to the Christian Hope Center.
They envisioned a trans-denominational, inter-racial body of believers that they characterized as "one family joined together in one hope."
Jean Longobardo went to be with the Lord in 1985. A few years later, David moved on to other ministry opportunities in North Carolina. The ministry was well established and the search was on for pastoral leadership.
New Leadership and Fresh Passion…1988-2020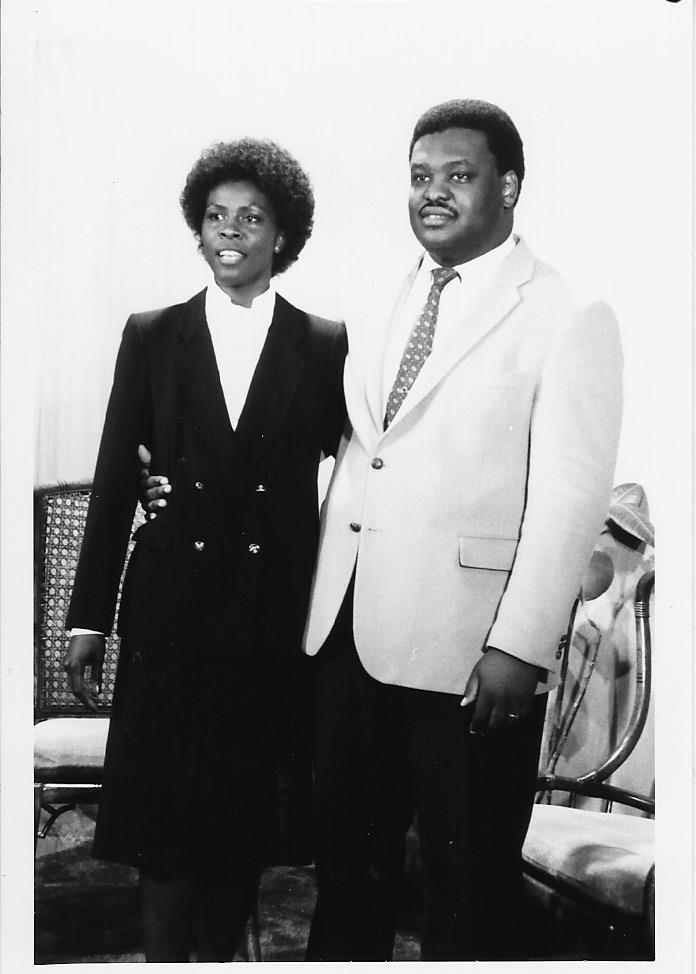 In 1988, Pastor Harry Jackson and his wife, Pastor Vivian Michele Jackson answered the call of the Lord and moved from Painted Post, New York. At that time, they had founded and were pastoring Christian Hope Center in Painted Post, New York. The ministry was comprised of a local church, radio station and elementary school. Pastor Harry pioneered one of the first multiracial, multiethnic churches in the region. Uniquely graced by God, he broke down barriers of racial and socioeconomic prejudice that often pervaded the institution of church. Pastor Nathan Hackett continues to lead that work today. Submitted to Judson Cornwall as their personal pastor and mentor, Harry and his wife yielded their lives to spiritual and ministry development. In 1989, they transitioned to Maryland where God opened doors for national and international ministry of evangelism, discipleship and healing. Bishop Jackson preached the word of God in Argentina, England, Germany, India, Russia, Ivory Coast, Nigeria and South Africa. Under his strategic leadership and unrelenting desire to do God's will, Hope Christian Church grew from 200 to 3000 members.
Dr. Vivian Jackson served in many roles to support the work of the ministry including Executive Pastor. She was a veteran advocate for building strong families as the foundation for supporting academic achievement. She was also a special education expert after previously serving in Ohio and Massachusetts public school systems. As an educator and Bible teacher, she held both Masters of Arts in Education (Northeastern University, 1980), a Masters of Theological Studies (Logos Bible College,1984) and a Doctorate in Educational Leadership (University of Phoenix, 2013).
Dr. Jackson, affectionately known as "Dr. Vivian" or "the Marriage Doctor," was an author, counselor and international conference speaker. She hosted conferences and workshops to help families foster strength and unity, both in marriages and in relationships between parents and children. Diagnosed with multiple myeloma in 2007, a form of blood cancer, Dr. Vivian again fought against the odds. Through various treatments and hospital stays, she continued to pray and counsel others through their struggles to bring them to freedom in Christ.
Dr. Vivian went home to be with the Lord April 2, 2018.
Jackson served as one of the chief conveners of the Reconciled Church: Healing the Racial Divide Movement; This was an effort to heal racial division first in the church and then the nation. He was also founder and Chairman of the High Impact Leadership Coalition (HILC). The HILC became an agent of healing for our nation by educating and empowering churches and community leaders to make grassroots improvements in their communities, states and our nation. Bishop Jackson was also a leading researcher on the black church. His book entitled High Impact African American Churches, co-authored with George Barna, was nominated in 2005 by the Evangelical Christian Publishers Association's Gold Medallion award. He authored over ten books. His last book, A Manifesto: Christian America's Contract with Minorities was a labor of love for Bishop Jackson to bring to completion and was published in August 2020.
He earned a Bachelor of Arts degree in English from the prestigious Williams College and a Masters of Business Administration from Harvard Business School. His secular work experience included positions in several Fortune 500 companies. Diagnosed with stage 4 esophageal cancer in the summer of 2005, Jackson entered into a nearly fatal battle for his life. Against the odds, Harry continued to preach and teach the word. While doctors prognosticated that Harry would not survive one year past his 2006 surgery, God granted Jackson 14 more years of miraculous life.
Bishop Harry Jackson went home to be with the Lord on November 9, 2020.
(Pictured left to right: Bishop Bill Hamon, Dr. Vivian M. Jackson, Bishop Harry R. Jackson and Tony Perkins - Episcopal Banquet, Mayflower Hotel, June 2012).
| | | |
| --- | --- | --- |
| + | | |

Turning the hearts of youth and families to God and each other (Malachi 4:5-6)

Developing our God given potential in order to win in every area of our lives (1 Timothy 4:14, 1 John 2:27)

Advancing the Kingdom of God; first through our circles of influence then to the nations abroad (Matthew 28:19)

| | | |
| --- | --- | --- |
| + | | |

"In His name the nations will put their hope" (Matthew 12:21)

Empowering Families with Hope and Destiny through Prayer, Worship and The Word.

H: Healing and Practical Helps

O: Developing Overcomers

P: Propelled by Prayer & Praise

E: Empathy and Compassion for the Lost, the Last, the Least

| | | |
| --- | --- | --- |
| + | | |

Hope Christian Church accepts the Scriptures as the revealed will of God, and adopts these Statements of Fundamental Truths and Doctrine.

---

The Bible

We believe the bible is the infallible revelation of God and therefore, the only authoritative and binding rule of faith and practice.
II Timothy 3:16-17; James 1:22

---

The Godhead

We believe there is only one living and true God, manifesting himself in the persons of the trinity – Father, Son, and Holy Spirit – equal in every perfection and executing distinct but harmonious offices in the great work of redemption. Deuteronomy 6:4; Galatians 3:20

---

The Son

We believe in the deity, virgin birth, sinless life, substitutionary death, and physical resurrection of our Lord and Savior – That He is the very God and Creator of all things. Matthew 1:23; Hebrews 7:26; I Corinthians 15:3-4; Philippians 2:9-11

---

Ministries

We believe in the universal depravity of man, hence the grace through faith in the shed blood of our Lord and Savior Jesus Christ.
Ephesians 2: 8-9

---

Sanctification and Holiness

We believe in the sanctification and holiness of the believer by Holy Spirit. Luke 24:49; Titus 3:5-8

---

Water Baptism

We believe water baptism is an ordinance commanded by the Lord Jesus Christ as and act of obedience, after salvation. It is not a means of salvation. We also believe water immersion to be the only biblical method of water baptism.
Colossians 2:11-14; Romans 6:3-5

---

The Gift of the Holy Spirit

We believe the gift of the Holy Spirit; miracles, healings, wisdom, knowledge, prophecy, tongues, interpretations of tongues, faith are for today, are in operation today, and are used for the edification of the church.
I Corinthians 12:3-11

---

The Great Commission

We believe our Lord gave the great commission to evangelize the world to His church.
Matthew 28:18-20

---

The Second Coming

We believe in the personal and imminent second coming of our Lord Jesus Christ – first to come for His saints, then with them to rule and to judge. I Thessalonians 4:14-17

---

Steps to Salvation (Roman Road)

God the Creator – We must acknowledge God as the Creator.
Romans 1:20 – 21

Separation – For all have sinned and fallen short…
Romans 3:23

Demonstration – God demonstrated His love towards us…
Romans 5:8

Consequences – For the wages of sin is death…
Romans 6:23

The way out – Romans 10:9-10
If you would confess with your mouth…

Call on His name – Romans 10:13
For whosoever calls on His name…

Determine – Romans 11:36
Determine in your heart to make Jesus Christ Lord of your life T-O-D-A-Y!

| | | |
| --- | --- | --- |
| + | | |

Core Values of Hope Christian Church

Unconditional Love

"We are called to be a demonstration of God's love" (Hebrews 10:12, 14 MSG)

Servant Leadership

"Strong leaders model the message" (Matthew 20:28 NLT, Matthew 7:12MSG)

Spiritual Disciplines

"Personal devotion to Christ produces a powerful spiritual life resulting in healthy relationships, families and marriages" (Acts 4:13-14 TLB, Psalm 100:4-5 NKJV)

Personal Relationships

"People don't care how much you know until they know how much you care" (1 Corinthians 8:1-3 NLT)

Teamwork

"When the team works, the dream works" (Ecclesiates 4:9-10, 12 NLT)

Discipleship

"There is no success without a successor" (Matthew 28:19-20 TLB, 2 Timothy 2:2 NKJV)

Generosity

"We live to give and love to give" (Acts 20:35 NKJV)

Personal Excellence

"Excellence inspires others and glorifies God" (Daniel 6:3 NKJV, Colossians 3:23-24 NKJV)

People Matter

"People are more important than the project" (Luke 10:38b-42 NKJV)

Soul Winning

"The heartbeat of heaven longs to rescue unsaved people" (Luke 15:4-7 NKJV)

| | | |
| --- | --- | --- |
| + | | |

The Ministries of HCC comprise our HCC Dream Team.

You can find a place to serve at HCC by browsing under Serve Here, Serve Near or Serve Far.

Serve Here means serving in a ministry at HCC that primarily serves during the Weekend Worship Experiences and special events. This includes our parking ministry, security, hospitality, ushers, greeters, media and technical arts, choir, worship team, band, guest care services, kids, middle school and teen ministries, prayer team, and LifeNet Altar ministry.Please complete the interest form to be connected to the ministry leader.

Serve Near means serving in a ministry at HCC that meets on the weekends and primarily serves the community in outreach and soul winning. This includes prison ministry, ministry to ex-offenders, street witnessing, mentoring women who are incarcerated, the HCC Food Pantry, visiting the sick and shut in, and bereavement support. Please complete the interest form to be connected to the ministry leader.

Serve Far means serving in a ministry at HCC that primarily provides opportunities for teens and adults to serve in local and global missions. We believe, at HCC, that missions work is a necessary rite of passage for teens and adults to grow in their spiritual lives. Each year, HCC coordinates with affiliate ministries to provide these life changing experiences to HCC members and attendees. Please complete the interest form to be connected to the ministry leader for trip specifics.

HCC offers personal consultation and prayer by appointment. If your family is currently experiencing challenging life issues, you are welcomed to make a counseling appointment by calling the church office: 240-845-0388 ext. 136.

HCC welcomes all former clergy and ministry leaders from other churches into membership at HCC. The first step to activating your leadership and service at HCC is the Grow Discipleship Class. This will enable you to work within the HCC culture and integrate into the church Body. You are also welcomed to set at appointment with the Pastor or Core Team by calling the church office: 240-845-0388.

| | | |
| --- | --- | --- |
| + | | Kids, Middle School & Youth |

**Due to the Corona Virus - We are excited to offer our Children's Minstry Online**

At Hope Christian Church, we value the children and youth in our church. We are honored to co-disciple your children. During this time, our teaching team has put together some lessons for you to go through with your children to help them continue to grow spiritually.

We can't wait to see you again, but in the mean time -- let's continue to grow together as a church family!

Choose the age group of your child from the menu to find the available lessons.

Kingdom F.U.N serves nursery through 4th grade.

F.I.R.E serves 5th through 7th grade.

Youth with Hope serves 8th through 12th grade.

College aged adults are encouraged to join a LifeNet Small Group.