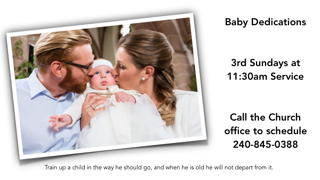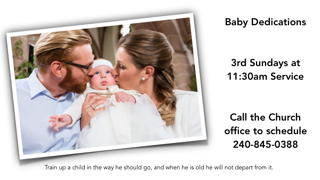 Register for a Baby Dedication
HCC conducts baby dedications on the 3rd Sunday of the month during the 11:30 am service. At HCC and according to scripture, one parent or guardian must be a born-again Christian in order to dedicate or sanctify the life the child to be set apart for Christ (1 Corinthians 7:14).
This is an exciting time in the life of every family! Please invite your family and friends to share in your child's special day. Families should arrive at 10:30 am and report to the HCC Chapel for orientation.
Complete the interest form below for you, your child and family. Expect to receive communication with next steps from the Pastor assigned to your service.